2" Polished Kambaba Jasper Palm Stones - 1 KG Bag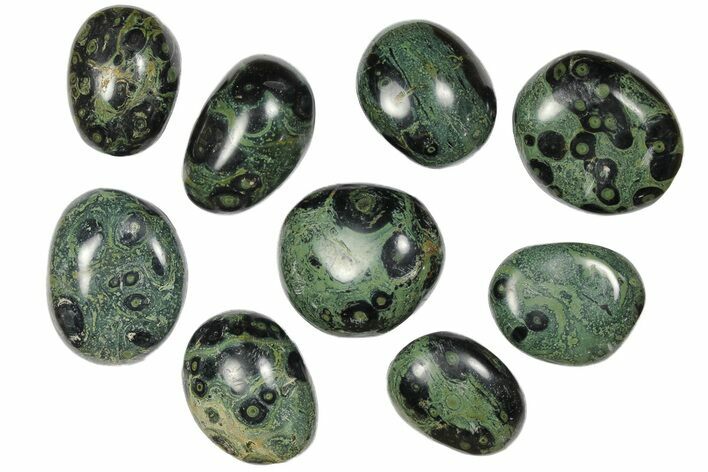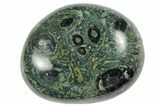 We just launched our new wholesale areas. Check out the
wholesale fossils, minerals & crystals
section for more listings. Very little of the wholesale inventory that we currently have in stock is listed on the website. If there is something specific you are looking for, or if you are looking to purchase different quantities, please contact us at
[email protected]
or
(866) 550-2013
This is a 1kg bag of Kambaba jasper "palm stones" from West-Central Bongolava, Madagascar. The pieces average about 2" wide but can range from 1 3/4" to 2 1/2". The number of stones per bag can vary from 8 to 14, depending on the size of the pebbles.
Kambaba jasper and crocodile jasper are trade names for a greenish rhyolitic (volcanic) rock found in the west-central Bongolava region of Madagascar. It is full of blackish orbs consisting of small Amphibole needles that some people say resemble amphibian eyes, hence the name "crocodile jasper". There is a
common misconception that Kambaba Jasper is a stromatolite
, however this is incorrect as it is volcanic in origin. Despite the misconceptions it is a beautiful decorative stone when polished.
COLLECTED
Tsiroanomandidy, West-Central Bongolava, Madagascar
QUANTITY
1 KG (8 - 14 Stones)