Towering, 38" Tall, Prasiolite (Green Quartz) Geode - Uruguay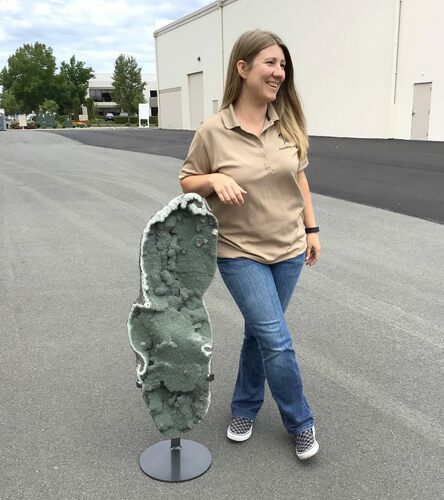 This is a stunning, green prasiolite (aka green quartz)
geode
from the mines famous amethyst mines near Artigas, Uruguay. It stands a towering, 37.7" tall, 42.8" tall when you include the custom metal display stand.
Shipping Notice:
Due to it's large size it will probably have to be shipped on a pallet via freight. Shipping will be calculated and added to your order after purchase, since our website can't automatically calculate freight shipping costs. They will probably run around $250-300 within the US. If you need a shipping quote prior to purchase, please contact us.
Prasiolite is a green variety of quartz that only naturally occurs in a few locations. It is formed when amethyst bearing rocks are heated by nearby lava flows or intrusions. It's often marketed under the name, green amethyst though that is technically incorrect as by definition amethyst is purple in color.
SPECIES
Quartz var prasiolite
LOCATION
Artigas, Uruguay
SIZE
37.7" tall, 12.5" wide, 42.8" tall on stand