28" Sandstone Block With Three Articulated Diplodocus Vertebrae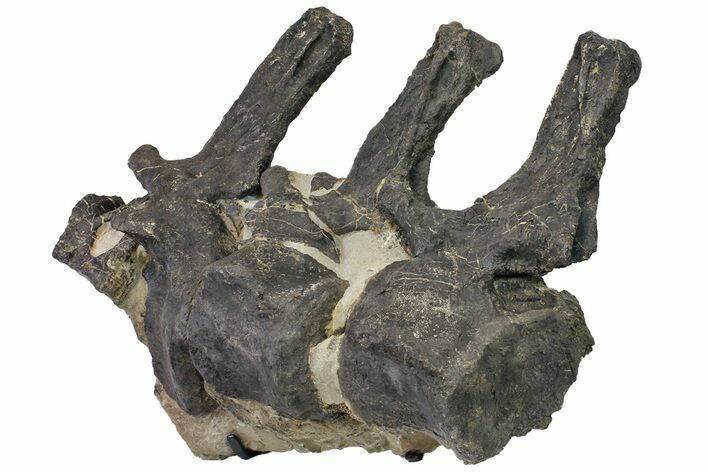 Shipping Note: Because of the heavy weight of this specimen it will need to be shipped via freight in a crate. Our website can not automatically calculate freight shipping costs so they will be billed after purchase. If you need a freight shipping quote, please contact us prior to purchase.

This is an impressive, natural association of three Diplodocus dorsal vertebrae in sandstone. This specimen was collected this past year from one of our partner's private quarries East of Dinosaur, Colorado. It was uniquely prepared, still partially embedded in the hard sandstone in which it was found. Because it was found is such hard rock the bone preservation is excellent. The dark, black coloration of the vertebrae is natural. The third vertebra to the right was prepped free from the sandstone and was later remounted back onto the rock. Each of the vertebrae has crack repairs and restoration to their spinous processes.

The entire specimen, including the stand, weighs about 128 lbs and measures 28" wide by 22" tall (dimensions don't include stand). The following measurements of each individual vertebra go from left to right when viewing the specimen from what could be considered its front: Left - 21" tall with a 5" thick body. Middle - 19" tall with a 6.5" thick body. Right - 17" tall with a 6.5" thick body. Measuring the height of these vertebrae can be difficult when they're presented in rock, therefore these measurements may vary by +/- 1".

This piece would make for an exceptional display and it's not very often you see dinosaur material presented in this manner, in it's natural state still in the rock. The sandstone fits nicely onto the provided stand, giving the vertebrae a beautiful presentation.



One of the best-known sauropods, Diplodocus was a very large long-necked quadrupedal animal, with a long, whip-like tail. It could reach up to 115 feet in length but had a relatively small skull, and a mouth full of small peg-like teeth it.
LOCATION
Sutton Quarry, East of Dinosaur, Colorado
FORMATION
Morrison Formation
SIZE
Entire specimen 28 x 22"