4.7" Plesiosaur (Zarafasaura) Dorsal Vertebrae - Morocco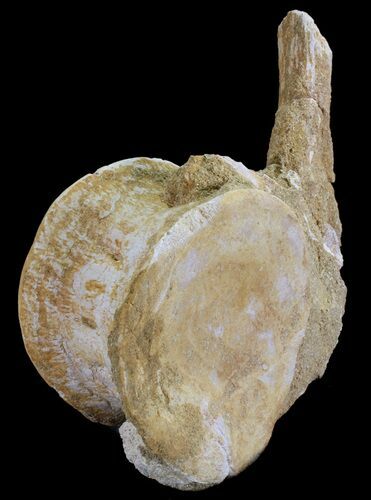 This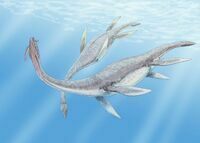 An artists reconstruction of a pair of Plesiosaur. By
Dmitry Bogdanov
is a large, Plesiosaur (Zarafasaura oceanis) dorsal vertebrae that has a repaired crack through the transverse process, hence the bargain price. It was collected from the Upper Cretaceous phosphate deposits near Khouribga, Morocco.
Including the remaining processes, it's 4.7" tall and 5.8" wide.
Plesiosaurs where long-necked marine reptiles with four flippers that appeared in the Triassic and died out along with the dinosaurs at the end of the Cretaceous period. They reached quite larges sizes, some species as long at 17 meters, and caught slow moving prey. Plesiosaurs breathed air, and bore live young; there are indications that they were warm-blooded.
This species of of Plesiosaur was redescribed from Plesiosaurus mauritanicus to Zarafasaura oceanis in a 2011 paper which can be found at:
A NEW SPECIMEN OF THE ELASMOSAURID PLESIOSAUR ZARAFASAURA OCEANIS FROM THE UPPER CRETACEOUS (MAASTRICHTIAN)OF MOROCCO
SPECIES
Zarafasaura oceanis
AGE
Upper Cretaceous

LOCATION
Khouribga, Morocco
FORMATION
Phosphate Deposits
SIZE
4.7" tall (including process), 5.8" wide