18" Paracoroniceras Ammonite On Metal Stand - England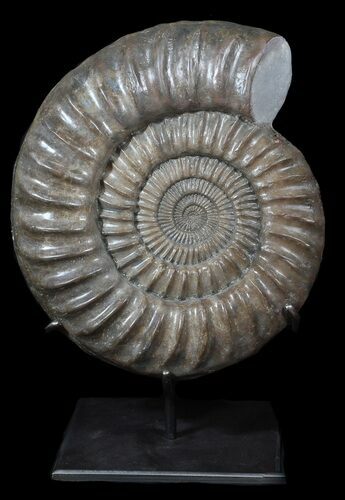 Please note: While we typically ship out material within 2 business days there will be a delay of approximately 3-4 days before we can ship this specimen. It's part of a lot of material currently in transit back to our primary shipping warehouse.
This is a very large, 18" tall Paracoroniceras charlesi ammonite fossil from Lyme Regis region of England. They are both approximately a foot wide and are aesthetically mounted on a custom metal stand. It's Lower Jurassic in age or approximately 200 million years old. It was found within a concretion and the rock surrounding it on the front side has been removed.
There are several areas of restoration along the top edge and then in the very center of the ammonite. A truly impressive display piece.
SPECIES
Paracoroniceras charlesi
LOCATION
Monmouth Beach, Lyme Regis, Dorset, England
FORMATION
Lower Lias, Bucklandi Zone