This Specimen has been sold.
12" Plate Made Of Agatized Ammonite Fossils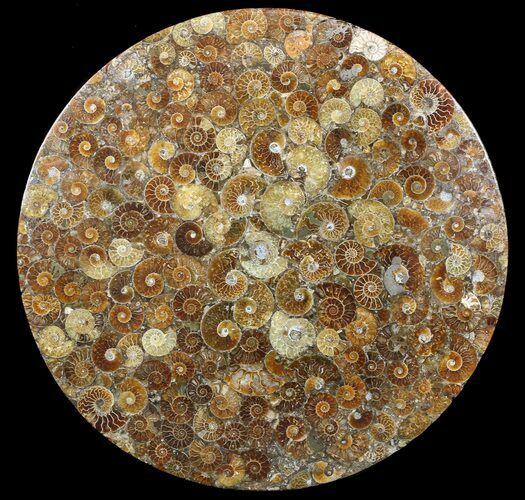 This is a really eye catching piece of fossil art. It is a 12" wide, plate made of many, real, agatized ammonite
fossils
which have been composited together in a resin. The ammonites are Early Cretaceous (Albian Stage) in age, or approximately 110 million years old.
Please Note:
The plate is not entirely flat, it has a slightly convex shape so it would probably not be good for laying on a flat surface and putting items on top of it. It displays great with the included display stand.
These ammonite fossils exhibit beautiful mineralization within the chambers, each separated by calcite scepta (divisions). Some of the chambers are preserved as crystal lined pockets that have been filled to allow for a smooth polish across the plate. This highly polished, exotic ammonite makes a superb vertical display piece with great historical appeal.
This specimen comes with an acrylic display stand.